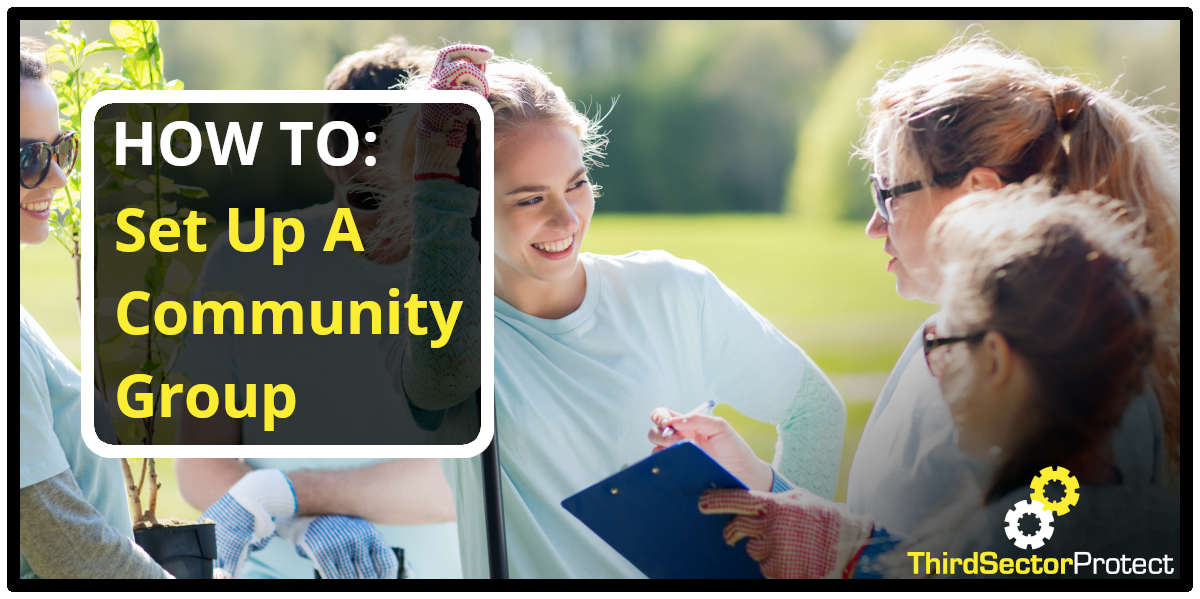 How to Set Up a Community Group Successfully
Starting a community group from scratch can be a daunting prospect. ThirdSectorProtect have put together a handy guide to help you start, advertise and run a successful group that makes a real difference on the future of our communities. Read on to find out how to set up a community group.
What is a Community Group
A community group is a group of people who work for the benefit of the public. Community groups may follow a set structure and adopt principles and codes of conduct which it wishes the community to follow.
Why are they good for the community?
Community groups offer a home to people with like-minded interests. They offer a code of conduct which will benefit both the immediate and future community, be it social, economic, environmental, spiritual or something else.
Things to consider before setting up a community group
Before attempting to set up your community group ask yourself: are there other groups which match what your group wants to do? If so, can you work in partnership with them? Look to complement these groups and other services in your area, such as charities and voluntary organisations. Before starting a community group you should think about:
Is the group necessary?
What will you offer?
What will you stand for?
What do you need to implement this?
Who will your members be?
Where will you meet with members?
How do you set up a community group?
There are usually three to four people who set up an initial group. This then becomes a management committee and forms the core of your group. This could evolve into more people, and responsibility for the group should be shared between several members. These will ensure the community group:
Plans and acts in the interests of its goals
Has the right resources to do this
Has the right funding in place
Before you do this, however, you should also think about drafting a Governing Document.
What is a Governing Document?
A Governing Document is like a constitution for the group. It tells members and the public exactly what it aims to do, how it seeks to reach those aims and its overall code of conduct. What's more, it should also include the legal information for your group including responsibilities.
This allows you to apply for money. Businesses and organisations will only give you money if they can see what the money is being used for. Once signed, the committee, not the members, is responsible for ensuring its terms are followed.
Where do community groups get funding from?
Depending on the nature and frequency of your groups activities, funding can be essential to ensure the successful running of a community group. Funding for community groups can come from many places. This includes:
Central and local government
Funding Central
Big Lottery programmes
Funding trusts such as Joseph Rowntree Foundation (JRF) and Community Development Foundation (CDF).
You can find more funding opportunities here.
What meeting places can you use?
Its worth considering where to hold meetings prior to starting a community group. General meetings help bring group members together and can encourage other members of the community to get involved. Where meetings are held might be difficult, but many groups use local village halls and community centres. These are often at the heart of the community and can be rented cheaply.
Do community groups need a bank account?
Almost all community groups have a bank account. This acts as a useful central area for funds and legitimises your group to funding foundations and organisations. High street banks offer specialist not-for-profit bank accounts as well as other ethical accounts. Do your homework and find the right bank account which suits your group.
How to set up community group insurance?
Insuring your community group is extremely important and shows that you act responsibly to cover your group, people and the wider community. The process can be burdensome but ThirdSectorProtect are here to help. Policies can include public liability, trustee indemnity and fidelity insurance, covering buildings, contents, loss of cash and more. Whilst some covers are optional others are mandatory when running a community group so it's always worth checking. Click here to find out more.
How do you attract members to your community group?
Once you begin running a community group and have the logistics and technical aspects of your group set up, you'll want to attract the public. Your advertising or marketing depends on the type of people you want to attract. Consider the following:
What age are your target audience?
Are they active online?
Do you want them to call, email or attend one of your meetings?
Digital advertising can give your group great scope. You may want a website which showcases your goals and mission. You may want to target people who use social media while paid advertising can help people learn about your group.
More traditional advertising such as distributing leaflets, flyers, brochures and speaking with local press is also a great way to spread the word.
How do you organise events for community groups?
Running events and activities for your community group can be a great way to get members of the public involved. If you need equipment, why not ask local organisations or businesses and explain why you need them? You should bear in mind the requirements of the activity. Do your team have the skill/expertise to manage the event? Training may be required for some of your group or any volunteers you use.
Additionally, your event may require specialist event insurance. This covers any accidents at the event as well as event cancellation. This can be added to an existing community group insurance policy. You can contact us regarding this here.
What risks do community groups face?
Aside from obvious risks including injury to members and the public, loss of money and information, fraudulent activity and damage to equipment and buildings you meet in, community groups need to be wary of the dangers of cybercrime.
Community groups are a good target for hackers because (a) they often store sensitive information for community residents and organisations and (b) they are usually not protected adequately.
A cyber attack could have serious consequences for your group and, if successful, a single hack may spell the end of your group regardless of how large or established your group is.
A relatively new insurance option, ThirdSectorProtect equips groups with Cyber Liability insurance which covers malware, ransomware, loss of funds and data as well as any legal fees and compensation. You can chat with us to find out more about this here.
How to maintain a successful community group?
Not-for-profit organisations rely on teamwork and are clear and focused in what they want to achieve and how. A focused committee goes a long way in securing this, as does the passion from every member. Protecting the work you do through insurance acts as your group's backbone, enabling you to focus on getting the most out of your resources.
Are you planning on starting a community group? Perhaps you already have but are looking for it to grow? ThirdSectorProtect can support your group on whatever journey it takes, including liability, protection for equipment, buildings and more.
Can't get enough? Check out another of our charity trustee posts:
Stay In Touch
To stay up to date with the latest tips and tricks on all things related to charities, not-for-profits and community groups, follow us on Facebook, Twitter & LinkedIn.