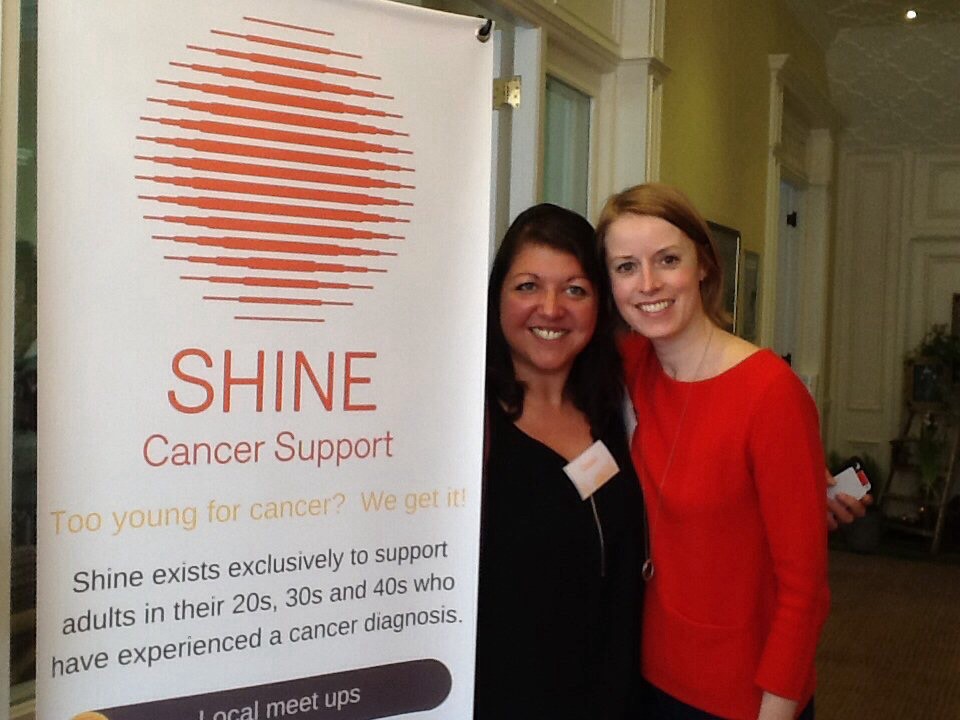 Meet the Charity- Shine Cancer support
Over the past couple of months, we've been catching up with some of our charity clients to see what their days throw at them, what changes they've seen in the third sector, and how they came to be.
Shine Cancer Support is the third in our Meet the Charity Series, and we're talking to the charity's founder and director, Emma Willis, to find out how she runs an organisation which started from very small beginnings, and is now a national charity with thousands of beneficiaries.
Are there any questions you get asked a lot when people find out you work at a charity?
Most people want to know why I do it, especially if they don't know about my own cancer experience. After that, it's normally questions about what we do and how we help people. I love answering those questions as, the more people that know about what we do, the more people we can reach and support.
Are there any misconceptions around working at a charity?
There tend to be a few misunderstandings, usually due to peoples previous experiences with charities and also what happens to be in the press at the time! We get mainly positive reactions to what we do but some people do still think that you can run a national charity delivering lots of activities and events with no paid staff! Stories in the press about larger charities and the amounts that people are paid or amounts spent on fundraising costs or administration can cause questions and comments but, as a small charity, we are very streamlined and efficient and these stories are often about much larger organisations. I like the opportunity to explain how things really work to people to help them understand the reality of working in a small charity.

Please give a brief overview of your charity and what it does.
Shine Cancer Support is the only charity in the UK exclusively focused on supporting people living with cancer in their 20s, 30s and 40s.  A young and dynamic organisation, Shine works to identify the unmet needs of people in this age group, and to develop innovative solutions to fill the "cancer support gap" facing younger adults.
How did you get into this role?
I was diagnosed with cancer myself when I was 29 and it took me over two years to meet anyone else my age that had also been though something similar. When I finally did meet people my age living with cancer, the relief I felt and the joy of not being so isolated made me want to make this available to other young adults facing cancer. What started as a small support network in Dorset, managed in my spare time, soon grew to become a national organisation that needed much more than my spare time could manage! After a few years of growing Shine alongside my day job, I was able to leave my career and focus on Shine full time in 2012.
Was it always something you thought you'd do?
It wasn't something I'd thought about, I had a successful career in banking but, after my illness, I didn't get the same level of satisfaction from my role. Starting Shine gave me so much more reward than anything I'd done previously and I consider myself extremely fortunate to be able to do what I love full-time. (even if the wages are lower!)
Have you seen any changes in the charity sector since you've worked in it?
I've learnt a lot about the sector since starting Shine. Thankfully, many organisations are really supportive and we are fortunate to work with some great charities and organisations, developing partnerships to help support people. I've seen a move towards empowering smaller charities to work collaboratively which is great for the sector and also for the beneficiaries of the charities which is always the aim for us. Many reports exist about a general reduction in charitable giving but we haven't experienced this as our community is growing fast and people can see what difference their money makes on the front line.
Does your schedule change or does it follow quite a rigid structure?
My schedule is always changing, no two weeks or even two days are the same. As a very small team (there are four of us) we all get involved in almost everything to do with the running of the charity. That means there is a big variety in the type of work I am doing daily. For example, if we have a big national event coming up like our Great Escape, most of my time is spent focused on planning and preparing for that and other days I could be managing the accounts or meeting with volunteers.
What kind of things can throw your day off balance?
We try to plan for most things and can be flexible enough to deal with unexpected events. There is always at least one email or contact in a day that needs to be dealt with straight away and can mean that we have to shelve our plans for that day and refocus. It might be a problem with an event we are planning or a news article that needs reaction from us straight away. It certainly keeps us all on our toes and makes life interesting.
How do you maintain work/life balance?
This is a tough one, a lot of what we do is planned around the lifestyles of our beneficiaries which means a lot of weekend and evening work. I don't consider my work at Shine like a normal job, it's my passion and I love what I do. That does mean that Shine takes priority over things like planning holidays and other life events but I've definitely chosen that route so I'm happy with it. I'm also lucky that my team are also very flexible so we make sure we try to take time off too.
When does your working day start and finish?
I don't really have a set working pattern, I think I'd be a bit worried if I actually added up the number of hours I work in an average week when you add in the evening chats with our volunteers or the time spent keeping an eye on our social media when something happens at night or over the weekend.

Talk me through your working day, with specific times if possible.
Each day is different so I'll give you an example of a typical office based day.
8am- Open up my laptop at home and check my emails and Shine's social media accounts for anything urgent that needs to be added to that days tasks. Check in with the team via our group Whatsapp.
8.30am- Finish getting ready for work and head to the office, it's about a ten minute walk so a great chance to think about what needs to be done that day and reflect on yesterday.
8.45am- Arrive at the office and get the coffee machine warmed up. We have a small office we've had for just over a year, near to Poole Quay. Our bad planning was that it overlooks a beer garden, which can be distracting on sunny days! Check our online task management system for new tasks and anything with an approaching deadline and decide which tasks to focus on that day. (I may have already done that the day before, but things change often!)
9.30am– Catch up call with Ceinwen, Shine's other director. We talk most days about anything urgent that has come in or to talk about specific projects or plans that we need to work on.
10.30am– Jon (our Communications and Fundraising Officer) will have arrived by now so we will have a brief meeting to talk about his plans for the week and to review what happened the previous week. His role includes planning and posting all of our social media so we will talk about what is a priority for that week and what happened in the previous week. We will also review the community fundraisers that he looks after, as a small charity, every person that takes on a fundraising challenge for us is something to be celebrated and Jon keeps in touch with everyone individually, making sure they have everything they need and encouraging them in whatever type of event they are taking part in.
11.15- Most of the morning has gone already so it's time to start working on today's tasks! As a small team, we all do a bit of everything, from high-level strategy planning to cleaning the office so these tasks are always varied. Sometimes I'll be working on our accounts and paying any bills and expenses that have come in and other times I could be working on planning one of our national events such as Shine Camp, our annual family and friends camping weekend. With over 100 people attending each year there's lots to do to make sure everything runs smoothly. We are very lucky to have a huge network of volunteers and, Shine camp has a team of 6 volunteers that work really hard with me to make everything happen. I'll have meetings and phone calls with the team and then spend some time following up on whatever plans we've made, from booking the marquee to liaising with the campsite.
1pm- It's probably time to pop out and grab a sandwich from the shop at the end of the street, I'm hoping they have their special on today!
1.15pm- I normally eat lunch at my desk unless I'm combining lunch with a meet up with one of our beneficiaries or volunteers. If I'm at my desk now, I'll be checking on messages and emails that have come in during the morning. Usually this means more to add to the to-do list.
2pm- One of my other regular tasks is working with our web developer to make sure all of our online content is being updated regularly. I could be writing new content, editing errors or looking at the analytics to see which parts of our website are most popular. This helps us to think about what content is most useful and design more that fits that need.
3.15pm- A call comes in from one of our volunteer network leaders, they run our local meet up networks around the UK and do a great job in connecting young adults with all types of cancer, arranging social events and supporting people individually. We've just recruited Kate whose role is to support these volunteers and help develop the networks. I still like to talk to the network leaders though so this chat could be about a new event they want to plan or because they are struggling with an issue that I can help with.
3.45pm- I'm back to my list now and working out which things I'll be able to get done today and which need to move to tomorrow. I may also be thinking about what I need for the next day, I could be working in London with Ceinwen and need to pack whatever we'll need for the day and work out my travel plans.
4.30pm- I'm heading home a little early today as I'm off to join our Shine Dorset network meet up. I love to catch up with both the network leaders and the members of our network in Dorset. It's also a great social opportunity to keep in touch with what's happening for people and help where I can. Often, just having a space to chat with people who have been in similar situations is all that someone needs to feel better.
So that's a typical day, if there is such a thing. I love the variety although sometimes it's difficult to predict what might come up in any week that needs acting on.

What have you learnt from working in a charity environment?
Working with such an amazing team of both staff and volunteers is really inspiring. It is humbling to look back at where we started as a small group in Dorset to a national charity, reaching 1000's of people each year. The commitment from both staff and volunteers is completely different to what I saw in my previous career, I guess it's that we can really see the impact we make on people's lives which really motivates us to constantly do more. It's such a rewarding industry to work in.

What do you like most about your work or find most challenging?
It's really hard to say what I like most, I'd probably say it's running one of our events. After the hard work planning and organising a training workshop or one of our residential events, it's great to see your plans come together and for the people at the event to embrace it and then to get great evaluations and feedback. It makes all of the planning worth it!
Most challenging is when we lose one of our members or volunteers. We work with people who are very sick all of the time but you don't 'get used to it' when people die. Each person we lose is a huge loss to our community and to us as individuals. It's comforting to know that we may have helped to support them along the way and we celebrate what time we did have with that person. It's definitely the most challenging part of what we do.
What would you change, if anything?
I'd like more hours in the week! There are always more ideas and plans that we'd love to be able to deliver but we are definitely working over capacity at the moment as I know is the case in lots of small charities. It's hard not to take on too much at once as we can really see the impact that some of our future plans will make. We have to concentrate on doing what we do well so I'd say the only change I'd make is more hours (or more staff!) so that we can deliver more things to more people.
I absolutely love my job and the people I work with and wouldn't change anything else!
You can find out more about the work of Shine Cancer Support and any upcoming events by visiting their www.shinecancersupport.org.