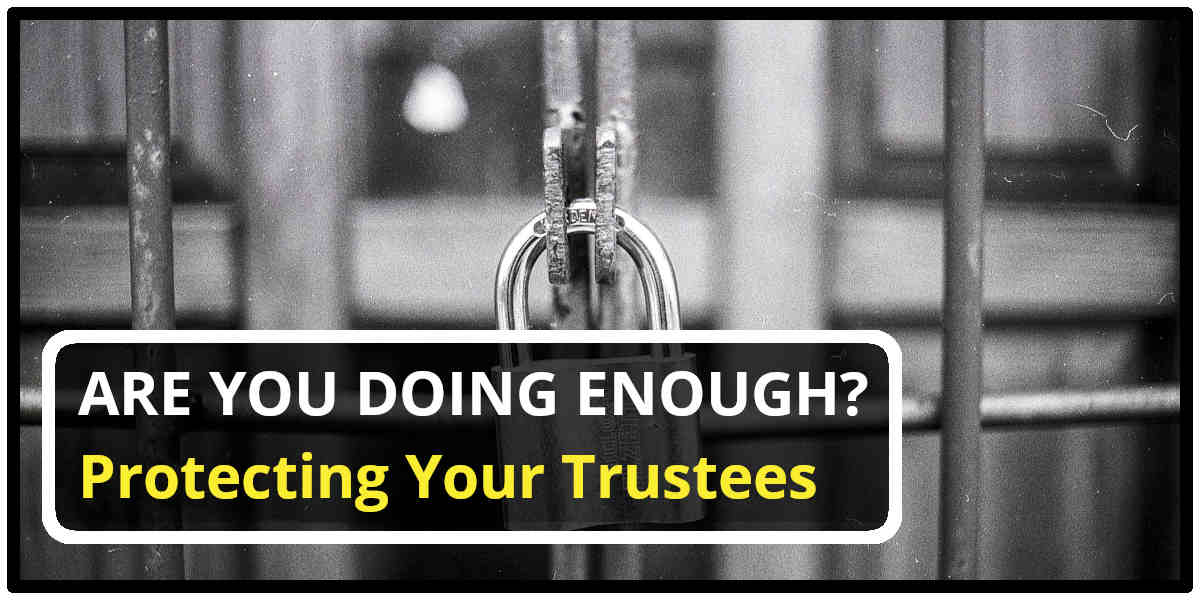 Is your charity doing enough to protect its trustees?
Reputable and committed trustees are vitally important to charities of all shapes and sizes. However it is important to recognise that trustees bear considerable responsibility both for their actions and the actions of the organisations that they represent
Making an error on a seemingly minor decision can put them at risk of claims for compensation, legal action or official investigations being directed towards them personally.
Financially crippling
These claims can be financially crippling to defendants, which is why trustee indemnity insurance is so important. It covers the legal costs and expenses of defending against disqualification as a trustee, investigations or extradition proceedings. The most important thing to remember is that without trustee indemnity insurance in place, an individual trustee may have to pay the costs to defend a claim out of their own personal wealth.
There's a misconception that trustees belonging to an incorporated charity are fully protected by the charity's legal entity should a claim arise. However, trustees can still be held liable for legal costs if they are found to have acted dishonestly, negligently or recklessly, or if they have caused financial loss.
Financial difficulties
For example a few years ago a large sports club ran into financial difficulties and approached the trustees of the club's charitable trust for help. This existed to raise money to help young fans take part in the sport; yet, given the seriousness of the sports club's situation, the trustees felt they had no choice but to help it avoid financial ruin and handed over a large quantity of money to the club. Unfortunately, because funding the parent club was not the purpose of the charity in question, an investigation by the Charity Commission inevitably followed, which focused on the erroneous actions of individual trustees rather than on the charity itself.
In a case such as this, without trustee indemnity insurance the significant costs associated with the investigation would have to be met by the trustees themselves.
Your charity's activities might seem so straightforward that your financial irregularities or breaches of the law are highly unlikely to arise, but, as the example shows, it is possible for trustees to make bad decisions even when their intentions are good.
Top tips for trustees
There are of course measures that can be put in place to reduce the risk of personal liability. Some top tips for trustees are:
Be fully aware of the obligations and responsibilities of your role as a trustee.
Keep accurate and up to date financial records.
Stay up to date with regulation and guidance from the charity commission.
Keep accurate records of how decisions have been reached.
Know your charity's legal structure, policies and procedures.
The Charity Commission guide Its your decision: charity trustees and decision making offers some really useful guidance on this subject, including the legal and practical things trustees can do when involved in decision making.
Risk management is recommended and can help prevent insurance claims, but not all events can be anticipated, so its worth checking the scope of your cover to make sure your trustees are protected as individuals in the event of a claim.
For more tips and tricks on all things third sector follow us on Facebook, Twitter & LinkedIn. Or for any enquires regarding a current or future insurance policy visit our website or give us a call on 0800 877 8277.