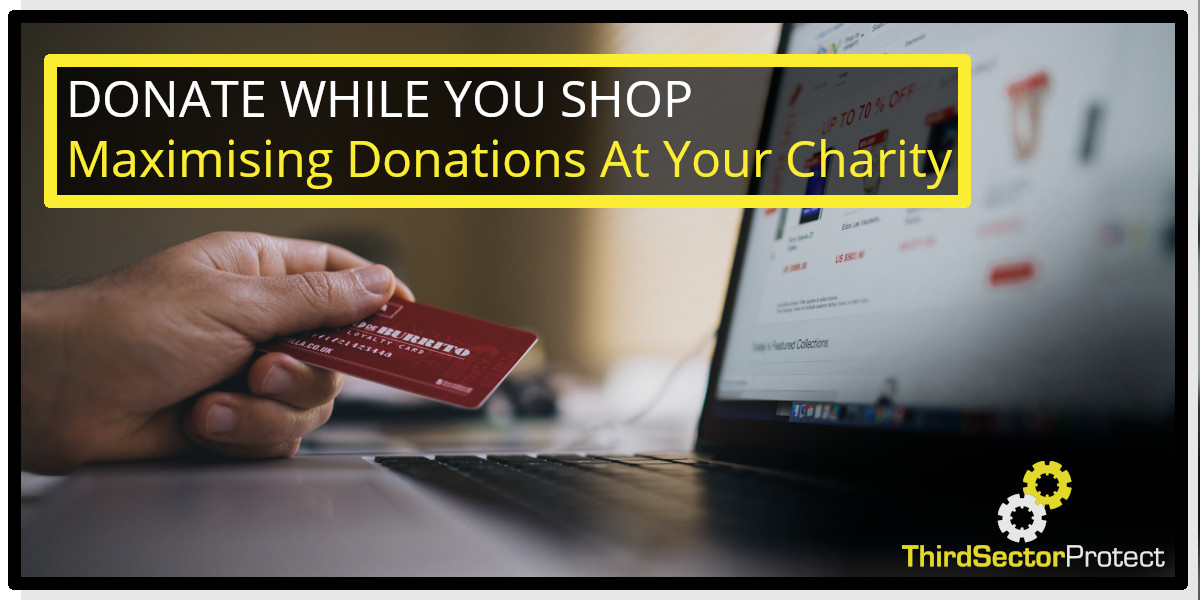 Donate while you shop- How your charity can maximise donations
In the digital world that is 2019, the majority of consumers are purchasing more and more of their shopping needs online, regardless of whether that's, food, drink, clothes, electronics, travel or insurance. As a result, a number of services have emerged offering the ability for consumers to donate while you shop.
How It Works- Donate While You Shop

These sites are able to make money of the commission offered by retailers. The sites receive commission from the affiliate store for sending a consumer to their website who will then make a purchase. Using this commission, the service will donate a percentage of the money they have made to the chosen charity of your choice.
These ' donate while you shop ' websites offer a lucrative and unique way for charities and not-for-profits to generate additional income at no increased cost to their donors.
We checked out the UK's four biggest ' donate while you shop ' sites to get some insight into the differences between these services.
The Donate While You Shop Services
We looked into four of the UK's biggest shopping fundraiser services:

Give as you live is a free, easy way to raise money for a charity of your choice. With over 4,300 retailers & 200,000 charitable organisations, this site boasts the most choice and freedom, meaning you can earn more money by shopping at all your favourite digital stores.
GoRaise was founded in 2015 with one simple goal; Make fundraising quick, easy, and accessible. With over 3,000 retailers registered, you should be able to easily build up donations for a charity of your choice from the 80,000 organisations listed.
GoRaise further sets itself apart with its 'Challenges' allowing friends and family to become 'supporters' for a challenge and increase donations in the lead up to these events with regular online spending.
'The Giving Machine' is a unique registered charity that exists within the ' donate while you shop ' market. As a charity itself 'The Giving Machine' claims it is able to pass on more commission than other available commercial alternatives.
A downside to this service is the low quantity of charitable organisations available to support (7,500), considerably less then the huge 200,000 listed on 'Give as you Live'. In addition there is a lower number of retail partners then the other 3 sites, however with 2,200 retailers registered to the service, there should be more than enough to keep you busy spending.
Easy Fundraising claims to be the UK's biggest charity shopping fundraising site, crediting its simplicity as one of the main factors for it's success. With 3,600 retailers and 130,000 charitable organisations, Easy Fundraising does a good job of competing with the volume present on 'Give as you Live'.
Donation Comparison
We tested the sites donation percentage on a range of different stores to see which site would donate the most to your chosen charity.



As you can see from the results above, The Giving Machine is able to offer the largest donation in the majority of occasions. This reinforces the charitable name of the organisation & illustrates the additional commission this service can sacrifice. One downside however is the lack of some larger mainstream retailers, in this case: food delivery service, 'Just Eat'.
The other remaining three sites all sit very closely in terms of donation percentages, only varying marginally across the board.
Conclusions




Ultimately it all comes down to you. The organisations you support, and the retailers you choose to shop with can help determine which of these services is the best fit.
Charity Cover You Can Rely On
At ThirdSectorProtect we're on hand if you need to check your fundraising activities and ideas are still insured under your current policy and we can recommend any temporary amendments if they aren't!
Get In Touch Today: 0800 877 8277
Fancy reading more, why not check out these other fundraising posts?