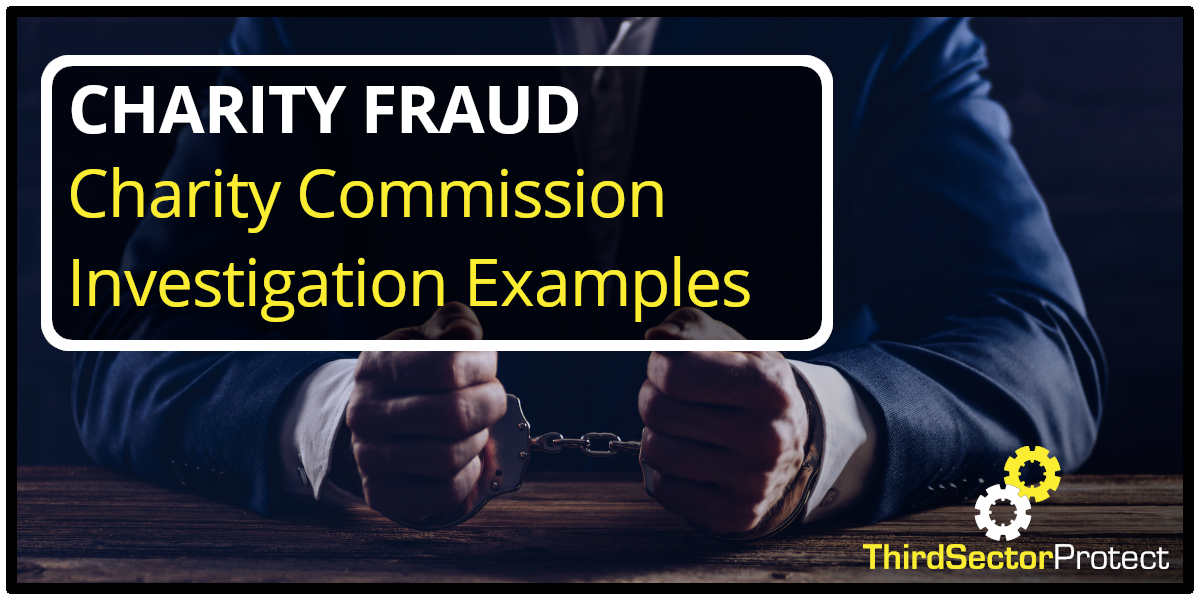 Charity Fraud Examples: The Charity Commission Investigations Into Corrupt Workers
In our recent article How to make decisions and deal with risk as a charity trustee, we warned how poor administration of funds could impact the organisation's financial goals. This was based on the assumption that such actions were a mistake – but what if the trustee is noticing dwindling funds due to a dishonest employee? Or if they're siphoning off monetary resources themselves? Below are four lessons on how not to manage your operation, specifically in relation to mishandling funding. Because as these charity fraud examples provided by Charity Commission investigations show, illegal activity and corruption in charities will likely be discovered sooner or later.
Charity Fraud Examples
The Bill-Payer
Position of fraudster – Office coordinator
Amount – £45,000 over 6 months
Corruption in charities is often a result of an individual employee/ volunteer abusing their position of power. In this example the Charity Commission and police were provided with reports based on concerns of wider collusion after an employee created a fake payee using the account login details of an authorised signatory.
The fraudster admitted to having made payments to their own bank account after six months, at which point the charity's bank was contacted, investigations carried out, and their employment terminated.

The Mismatched Invoices
Position of fraudster – Finance Director
Amount – £900,000 over 7 years
It was only after the director had been made redundant that discrepancies between payments and invoices were uncovered. Initial investigations revealed £200,000 had been taken over a year, but this was found to be a much more after the charity's bank performed their own investigation. The ex-director was charged with five counts of theft and one count of fraud abuse.

The Partner Organisation
Position of fraudster – Field supervisor
Amount – £46,000
A lapse in supervision by the charity meant someone employed by a partner organisation was able to make false purchases which were charged back to the charity, and deliberately overpay for goods before appropriating the difference.
The field supervisor admitted their offence when confronted with evidence gained from the Charity Commission investigations, and the charity submitted a serious incident report to the Charity Commission. After seeking legal advice to pursue the lost finances, the partner organisation confirmed they would cover any losses from their employee's fraudulent activity.

The Absent Records
Position of fraudster – Chair
Amount – £35,000 over 3 years
Trustees recently appointed to a Parents Teachers Association (PTA) found that the financial controls of the charity were lacking. The school wasn't receiving regular payments of funds raised, and furthermore, there was no record of fundraising totals following an event.
Following a police investigation, the charity chair was found guilty of five counts of theft and given a two-year suspended sentence, as well as being ordered to do 300 hours of unpaid work.
Trustees Responsibilities
Trustees have six main responsibilities according to the Charity Commission, among which are ensuring the charity is accountable, and is complying with the law.
Remaining vigilant to anomalies and corruption in charities, following referencing procedures for staff, and formalising management and administrative processes can all help towards decreasing your charities vulnerability to charity fraud examples such as these and other issues which could be potentially catastrophic for your organisation's reputation and balance sheet.

ThirdSectorProtect
For more information on how Third Sector Protect can help build your resilience further with charity insurance or for a free quote, get in touch with the team on 0800 877 8277 or request a quote!
Can't get enough? Check out another of our charity trustee posts:
Stay In Touch
To stay up to date with the latest tips and tricks on all things related to charities, not-for-profits and community groups, follow us on Facebook, Twitter & LinkedIn.