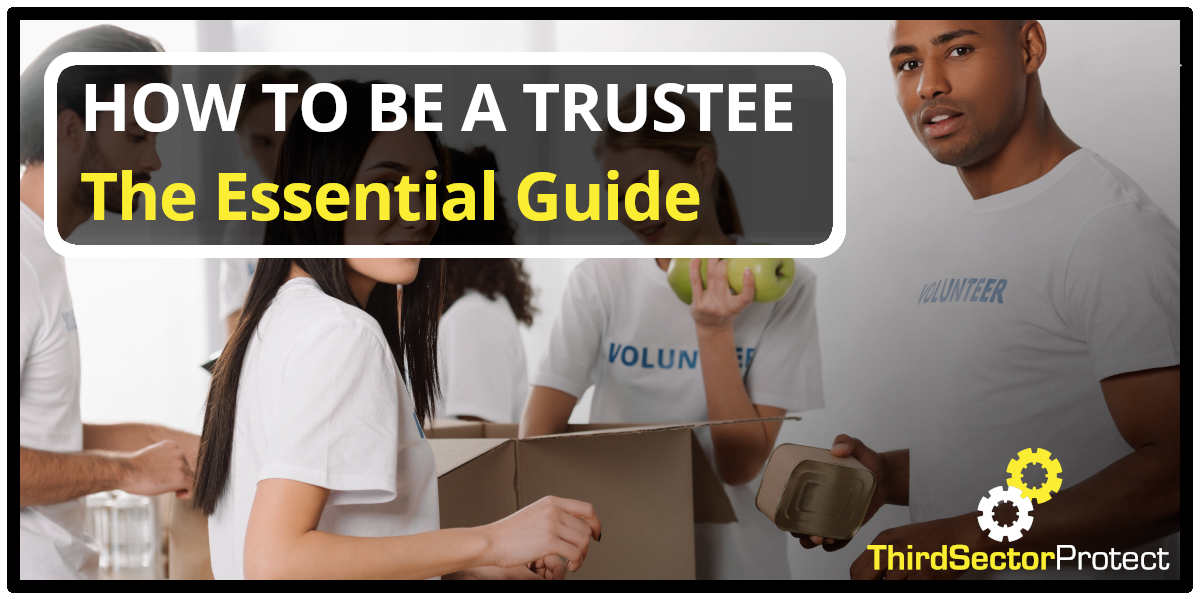 The Essential Guide On How To Be A Charity Trustee
Charity trustees give a helping hand in the effective running of a charity, but the role is not without its risks. ThirdSectorProtect have put together an essential trustee guide explaining your role as a trustee, responsibilities, risks and how to effectively protect yourself and your charity.
Trustees have a huge impact on both large and smaller charities. They help shape the mission of the charity and have a direct influence on how it reaches that mission. The Trustee Act 2000 describes the duty of care trustees must show in their actions and choices.
Yet trustees also face dangers in their role, some of which can affect their personal life as well as their professional. Here's our guide explaining the role of a trustee, their responsibilities, the risks they face and how trustees can protect themselves and their charities.
What is a trustee?
Charity trustees are sometimes referred to as charity governors, directors or a charity committee. They are the people who dictate the shape, mission and strategy of a charity. Usually unpaid, trustees make a charity's biggest decisions and these decisions are made personally.

What do trustees do?
The role of a trustee often spans the whole charity, from organising charity fundraisers and helping in the day-to-day running of charity shops to behind the scenes tasks including administration, recruitment and finance.
Trustees steer charities towards their goals. According to The Charity Commission, trustees have six main responsibilities:
They need to ensure their charity's purpose is for the public benefit. This could be understanding both the reach and limitations of the charity and creating evidence of the difference the charity is making.
They need to ensure their charity complies with the governing document and the law. This is less about being an expert and more about making sure all the rights steps have been taken to be compliant.
They need to ensure their charity is accountable. This is about adhering to legal accounting standards and ensuring staff are accountable to the board.
They should act in their charity's best interests. This is about making the right decisions, accepting majority decisions and dealing with conflicts of interests.
They must manage their charity's resources responsibly. This relates to ensuring the charity's assets, reputation and people are adequately protected, as well as securing the resources the charity needs.
They must act with reasonable care and skill. This means using knowledge and experience to make the right decisions and preparing if issues do arise.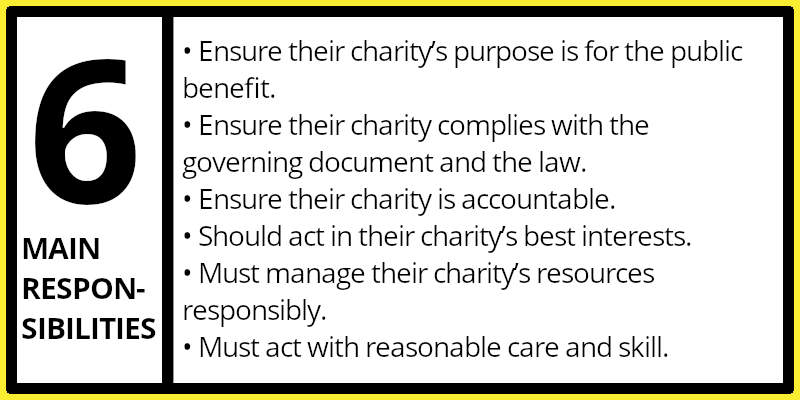 Trustees and decision making
Trustees make big decisions and the consequences can be significant. These decisions are often personal to the trustee, and so the skill, knowledge and experience is on the line.
Board members and trustees must act in good faith, within their powers and always in the interests of the charity only. The Charity Commission warns trustees should dismiss irrelevant factors which may cloud judgement and manage conflicts of interests.

What issues do trustees of a charity face?
A trustee's decision can be harmful in many ways. It might harm:
The reputation of the charity
The charity's assets
The charity's people and staff
The charity's benefactors
The wider community
Members of the public

But how can a bad decision impact these groups?
Poor administration of funds and resources may lead to a charity struggling to meet its goals. In turn, it may not be able to continue making a difference. In this instance, the decisions made by the trustee board could be to blame.
Perhaps a trustee fails to listen and act upon warnings about health and safety, resulting in injury to an employee or member of the public. Again, in this instance, a trustee's negligence could have the finger pointed at it.

What happens when a claim is made against a trustee of a charity?
Unlike most other decision-making roles, trustees face personal liability when a claim is made against them. This means that the trustee could pay regulatory costs, legal fees and any compensation due personally, out of their own pocket.
For most trustees, this situation would lead to insolvency or bankruptcy, and would also end any hope of acting as a trustee for another charity, too.
What's more, the charity you as a trustee have represented could struggle to shrug off the bad publicity tied to your decision and it could, in time, face closure.

How can trustees protect themselves?
Ultimately, issues should not arise if you follow the guidelines set out here and by the Charity Commission. However, some scenarios do not have a positive ending and it can be a matter of trying to minimise the issue.
Trustees believe in the charity's mission. It's why trustees take on the role in the first place. Yet trustees need to have a firm understanding of the limitations of their own authority, skills and experience. There is no harm in asking for help when needed. In fact, charities work better by combining many ideas to choose the right step going forward.

Insurance for trustees is also a form of protection against poor decisions and mismanagement. Like professional indemnity insurance, charity trustee insurance helps to protect the trustee, directors and management from claims made personally against them.
However, professional indemnity protects the charity itself in the event of a claim. If the charity, governing body or individual believes the issue came from an act or omission by the trustee, then trustee insurance is required to protect the individual trustee. For this reason, many charities consider insurance for trustees to be essential.
ThirdSectorProtect – Trustee Indemnity Solution
Setting up and running a charity can be highly stressful. Whether you are a charity organisation or trustee of one, ThirdSectorProtect can protect the work you do.
Can't get enough? Check out another of our charity trustee posts:
Stay In Touch
To stay up to date with the latest tips and tricks on all things related to charities, not-for-profits and community groups, follow us on Facebook, Twitter & LinkedIn.