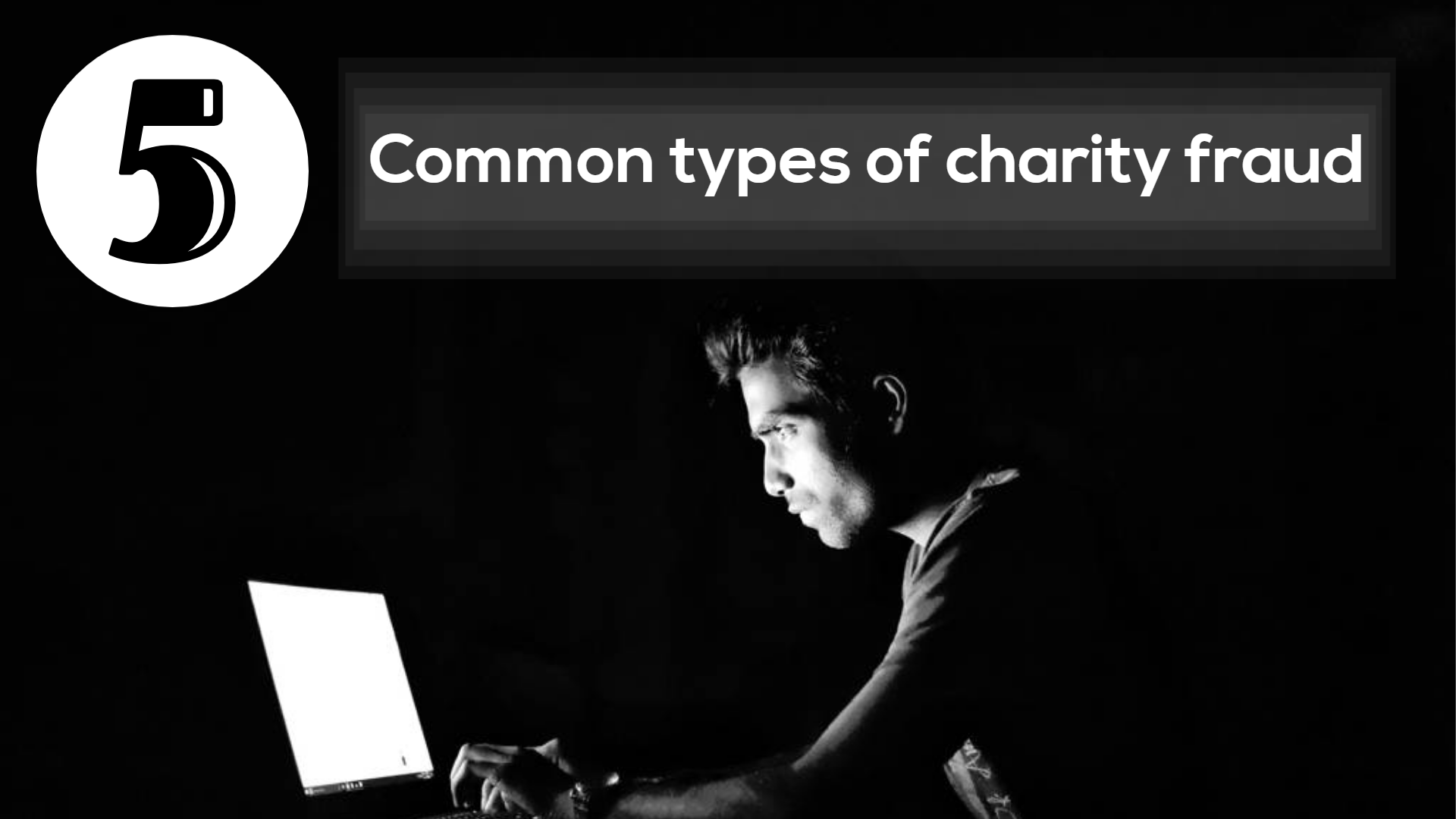 Charity Fraud: Five common types & how to prevent them
Like all sectors, charities are susceptible to fraud and can be an easy target for criminals. Charity fraud is due to numerous reasons, including high level of cash flow, which means that suspicious transactions will be harder to identify; the goodwill and trustfulness of many volunteers involved with a charity; and the lack of effective audit systems at certain organisations.
Charities of all shapes and sizes can fall victim to different kinds of fraud, and various new methods are cropping up continuously. Some of the most common types of charity fraud include the following:
Internal Fraud
Misuse of charity money
It is never pleasant to think that people working in your charity may be capable of fraud, but the reality is that more and more organisations are suffering from this. Misuse of charity money can come in numerous forms, from pocketing cash to misusing charity credit cards. Finance departments- and the staff running them- should be audited regularly in order to avoid this.
False expenses
Another common method of internal fraud is by claiming over-inflated, non-existent or inappropriate expenses or overtime. Ensure all expense claims are as described on the claim form, are accompanied by a receipt and are submitted within a reasonable time period.
External Fraud
False invoicing
False invoicing is used by external fraudsters in order to obtain money from a charity. These false invoices will usually contain fake supplier identities and purchase orders, in order to obtain payment for goods or services that have not been received. Charities of all sizes are vulnerable to this type of fraud and, in many cases, these invoices are paid because staff assume they must have received the services or goods.
To prevent false invoicing fraud, ensure all invoices are assigned an owner who can verify that the services or goods have been received, and the owner is consulted before the invoice is paid.
Charities should also bear in mind that invoice fraud can be an internal risk- dishonest staff members could create and pay their own fraudulent invoices. We have seen a steady increase in this sort of claim.
Unauthorised fundraising
This is a scam that plays on the sympathy and goodwill of others by asking them to make a donation to a cause. In a majority of cases, the request will be linked to a high-profile event, such as a flood or earthquake. Fraudsters will ask for money in different ways- for example, via email where you pay by card, or a collection box in a public place. In an increasing number of cases, they misuse the name of other charities and then pocket the money. The Charity Commission recommends that trustees should take appropriate steps to stop the unauthorised fundraising (Including legal action of necessary) and ensure that all donations are then passed on to their charity.
Credit card scams
Last year, the Charity Commission alerted charities to a credit card scam where fraudsters pretend they wish to donate a large sum of money, but only if the charity sends a large proportion (usually half) of this money to their other favourite charity.
These bank details are actually the fraudster's personal account, and the "donation" is being made using a stolen credit card. Charities must look out for unusually large amounts of money and complex terms and conditions made by the donor.
ThirdSectorProtect
Beyond taking these preventive steps, it is important to ensure that you are properly covered should charity fraud occur. Contact the insurance professionals at Third Sector Protect for more information about removing your risk with insurance. For additional information on managing risk, read our blog post: Bonfires & Firework Displays.
For more tips and tricks on all things third sector follow us on Facebook, Twitter & LinkedIn.