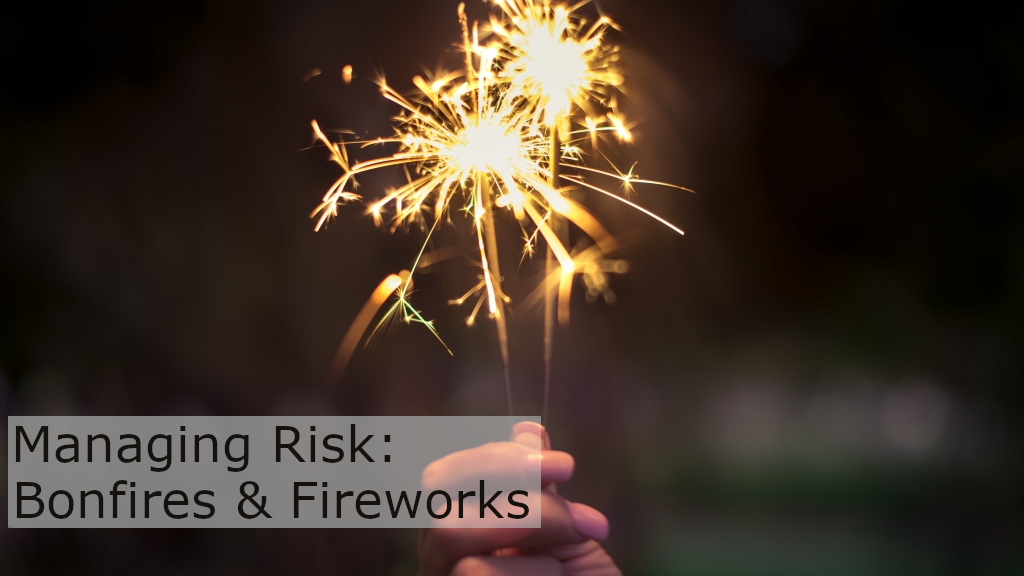 Managing risk: Bonfires & Firework displays
Bonfires & firework displays are universally popular and often ensure a successful fundraising event. However, fireworks are explosive and incendiary devices burning at high temperatures which have the potential to cause damage and serious injury. 
What can go wrong?
Most bonfires & firework displays run without any issues, however, things can go wrong. For example, if a firework falls on its side when lit, it could hit a building and cause damage or worse, it could hit a spectator and cause personal injury.
Good practice and risk management are essential to reduce the possibility of an unfortunate accident and, should one occur, help ensure a successful defence against any subsequent legal actions.
Organising a display
1. Check your insurance cover
Before planning your event, speak to your insurer to check if your policy includes cover for bonfires or firework displays
2. Plan ahead
Have a plan in place for each element of your display. Consider what could go wrong and what action should be taken if the worst happens
3. Inform the authorities
Inform the following authorities of your event: Police, Fire brigade & Local authorities.
4. Choose the right location
Choose a location that is well clear of buildings and trees; and also where spectators can be kept a safe distance away from the bonfire or fireworks.
5. Safe practice on the night and after
Have crowd controls in place and arrange to have stewards who know what to do in an emergency. After the event, make sure the area is left safe and clear.
*The Health and Safety Executive (HSE) provides guidelines on the safe running of firework displays and bonfires covering the above areas. Any bonfires & firework displays should be organised in accordance with the HSE guide HSG124 'Giving your own firework display: How to run and fire it safely'. Following and adhering to these guidelines will ensure that you are observing good practice and excising correct risk management*
Professional Displays
A display organised by professional display organisers has many advantages. Displays can be more spectacular as they have access to and are legally allowed to use pyrotechnic devices which are not available to the general public. Their operatives are trained, accredited and often have many years of experience in running successful displays.
Not least, if something does go wrong and a claim is made against you, a recovery may be made against them, thus protecting your claims history. When using professional display organisers you should ensure they are covered by the following:
Members of the British pyrotechnists association

Public liability insurance (With a minimum of £1,000,000 limit of indemnity)
ThirdSectorProtect
Beyond taking these preventive steps, it is important to ensure that you are properly covered should something go wrong. Contact the insurance professionals at Third Sector Protect for more information about removing your risk with insurance.  For additional information on managing risk, read our blog post: Charity fundraising-Risks & Regulations.
For more tips and tricks on all things third sector follow us on Facebook, Twitter & LinkedIn.